We all know that nowadays HR managers and recruiters receive a lot of applications, more than 50% is for trainee positions. Unfortunately managers don't have a chance to interview each applicant that's why they are always looking for ways to filter the candidates out. In fact, some merely glance at each resume before deciding whether to toss it in the "yes" or "no" pile. So, it's highly important that you make those few seconds count.
Today we are sharing some CV creating tips based on our personal experience and advice from our experienced staff. Let's go!
Tip 1- List 3-4 key sentences at the top
Here you need to think of your strong aspects and also explain how the employer would benefit if they decide to hire you.
Check carefully the job description, include in CV skills, qualities, abilities they ask for. So imagine you are a CEO or HR, and ask yourself, "What would I like to know about this person so he/she could help me improve my business?" The answer is a small number of really exciting benefits and results, backed up by examples that are relevant to the job you are applying for.
If the company states their vision and mission on the website, please mention that you share their passion (and if you don't maybe it's not the right company to work at) and you are happy to work with like-minded people.
Tip 2 - Use a template
People tend to absorb information visually much better than the simple text. Find a template with additional illustrations and use them to tell more about your soft skills, language proficiency etc. If you are applying for a designer role it's even more crucial to have a nicely crafted CV.
Here is a great example below.
Tip 3 - Make it not too long and not too short.
As you remember, most probably the HR Manager will get a lot of applications, normally they won't spend too much time on each CV, especially if it's a beginner position you are applying for. Keep it short and relevant, don't include information which is useless and irrelevant for the position. Stick to the rule of having one, beautifully designed CV page. Save it in PDF and make sure it's not oversized (100-300 KB).
On the other hand, if you have a hard time coming up with the information to fill in one page try to think of additional skills and experience you can mention. Have you ever completed an online course or maybe a workshop about teamwork or leadership? Or maybe it's about time you enrol in the course if you lack some practical experience?
Tip 4 - Include a picture
Pictures help a lot, it makes your CV look more friendly and catchy. Just be sure to find an appropriate photo, preferably something simple with a nice smile. If you don't have any, come on, put on a clean t-shirt and ask your friends to take a shot.
If you are applying for a more formal job where people wear suits and skirts like lawyers or bank officers maybe you should consider wearing a white shirt and having a more serious face.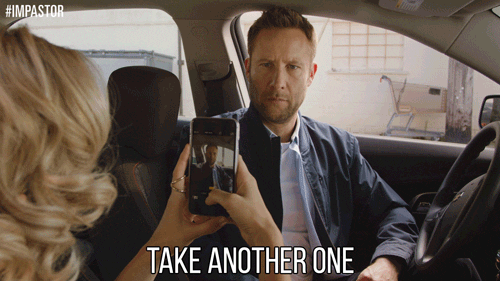 Tip 5 - Add some fun if it's possible
People receive a lot of information everyday, the question is how much of it will you remember on the following day? 10%. 8% or 2%? We tend to remember events and messages that make us feel something, in this scenario your application should trigger positive emotions.
For example you can mention something weird or unique about yourself. It can be anything from saying that you can finish a bottle of orange juice in 5 seconds to the fact that your grandfather won an Olympic medal in 1956. This will help you to stand out from the crowd and most probably HR will remember exactly this minor fact about your life.
Bonus lifehack
Okay, this may sound like cheating but we can call it as an additional motivation source. Of course, you can google dozens of templates and use them as an example, but most probably they will be too general. What you can do is to think of your dream job and look for a free job portal and post the dream job description there. If everything goes well you will get a few applications. I can't guarantee you 100% unique CV, but at least you would be able to see what people write and put yourself in the shoes of the employer.
Congratulations!
Now you are ready to land the job of your dream with your awesome, personal and unique CV. If you have any questions Envirotech Team is always happy to help students with finding a great job.
If you feel like you need some extra knowlege please check our website to see what courses we offer. We provide students with a flexible schedule (you can study diplomas online) and funding options available for Australian citizens.